Warning
: mysqli_query(): (HY000/1030): Got error 28 from storage engine in
/home/oneshotcleaning/public_html/wp-includes/wp-db.php
on line
2024
WordPress database error: [Got error 28 from storage engine]
SELECT t.*, tt.*, tr.object_id FROM osc5x_terms AS t INNER JOIN osc5x_term_taxonomy AS tt ON t.term_id = tt.term_id INNER JOIN osc5x_term_relationships AS tr ON tr.term_taxonomy_id = tt.term_taxonomy_id WHERE tt.taxonomy IN ('layout_category', 'layout_pack', 'layout_type', 'scope', 'module_width') AND tr.object_id IN (2705) ORDER BY t.name ASC
Warning
: mysqli_query(): (HY000/1030): Got error 28 from storage engine in
/home/oneshotcleaning/public_html/wp-includes/wp-db.php
on line
2024
WordPress database error: [Got error 28 from storage engine]
SELECT t.*, tt.*, tr.object_id FROM osc5x_terms AS t INNER JOIN osc5x_term_taxonomy AS tt ON t.term_id = tt.term_id INNER JOIN osc5x_term_relationships AS tr ON tr.term_taxonomy_id = tt.term_taxonomy_id WHERE tt.taxonomy IN ('layout_category', 'layout_pack', 'layout_type', 'scope', 'module_width') AND tr.object_id IN (1396) ORDER BY t.name ASC
Warning
: mysqli_query(): (HY000/1030): Got error 28 from storage engine in
/home/oneshotcleaning/public_html/wp-includes/wp-db.php
on line
2024
WordPress database error: [Got error 28 from storage engine]
SELECT t.*, tt.*, tr.object_id FROM osc5x_terms AS t INNER JOIN osc5x_term_taxonomy AS tt ON t.term_id = tt.term_id INNER JOIN osc5x_term_relationships AS tr ON tr.term_taxonomy_id = tt.term_taxonomy_id WHERE tt.taxonomy IN ('layout_category', 'layout_pack', 'layout_type', 'scope', 'module_width') AND tr.object_id IN (1397) ORDER BY t.name ASC
First impressions make a world of difference whether you are a business owner or a residential property owner. And one thing which can quickly become an eyesore is some distraught artist's so-called creative renderings on your property walls – aka graffiti! Not only does it distract your clients by defacing your property, but graffiti is also usually an unlawful activity. Don't fall victim to graffiti anymore. Call One Shot Cleaning for same day graffiti removal in Adelaide.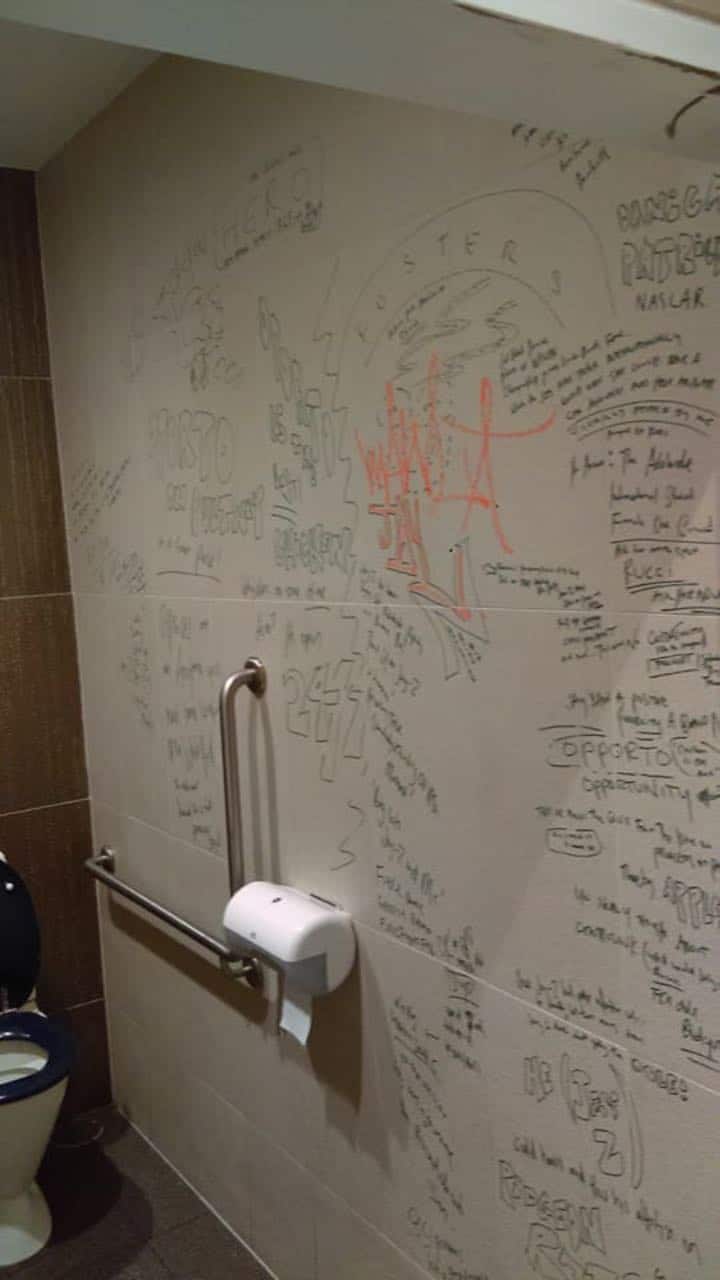 PROFESSIONAL GRAFFITI REMOVAL
Are you worried about Graffiti impacting your business?
Vandals defaced your residential property with graffiti and now your resale value has gone down?
Your property turning into the eyesore of your neighborhood?
Don't worry, One Shot Cleaning can help!
Graffiti is done using spray paints, chemicals, permanent markers as well as wax. If not done right, graffiti removal can damage the surface even further. One Shot Cleaning provides same day graffiti removal services for commercial, government as well as residential properties.
We have been in the business for 17+ years. This depth of experience, coupled with our skilled graffiti removal experts, enables us to offer end-to-end graffiti removal solutions.
WHAT WE DO
At One Shot Cleaning, we use eco-friendly products and chemicals for removing graffiti. We use either pressure cleaning or manual application method for these biodegradable cleaning solutions. Our graffiti removal experts are trained at efficiently removing graffiti without further damaging your walls. Once the graffiti is removed, we can even apply a coating of protective paint for safeguarding the surface against future graffiti vandalism.
GRAFFITI REMOVAL SURFACES
One Shot Cleaning's graffiti removal experts can target graffiti on almost any surface including:
• Bricks • Stone • Glass • Rendered Surfaces • Plastic • Aluminium Surfaces • Metal • Stainless Steel • Corrugated Iron • Asphalt • Paint • Concrete Surfaces • Colorbond Walls • Wooden Surfaces
SERVICES
One Shot Cleaning offers professional and quick graffiti removal services for graffiti on:
• Vehicles • Heritage Buildings • Trees • Rocks & Stones • Tennis & Golf Courts • Shopping & Retail Centers • Government Buildings • Schools • Hotels & Pubs
CALL FOR THE ONE SHOT CLEANING DIFFERENCE