Warning
: mysqli_query(): (HY000/1030): Got error 28 from storage engine in
/home/oneshotcleaning/public_html/wp-includes/wp-db.php
on line
2024
WordPress database error: [Got error 28 from storage engine]
SELECT t.*, tt.*, tr.object_id FROM osc5x_terms AS t INNER JOIN osc5x_term_taxonomy AS tt ON t.term_id = tt.term_id INNER JOIN osc5x_term_relationships AS tr ON tr.term_taxonomy_id = tt.term_taxonomy_id WHERE tt.taxonomy IN ('layout_category', 'layout_pack', 'layout_type', 'scope', 'module_width') AND tr.object_id IN (2705) ORDER BY t.name ASC
Warning
: mysqli_query(): (HY000/1030): Got error 28 from storage engine in
/home/oneshotcleaning/public_html/wp-includes/wp-db.php
on line
2024
WordPress database error: [Got error 28 from storage engine]
SELECT t.*, tt.*, tr.object_id FROM osc5x_terms AS t INNER JOIN osc5x_term_taxonomy AS tt ON t.term_id = tt.term_id INNER JOIN osc5x_term_relationships AS tr ON tr.term_taxonomy_id = tt.term_taxonomy_id WHERE tt.taxonomy IN ('layout_category', 'layout_pack', 'layout_type', 'scope', 'module_width') AND tr.object_id IN (1396) ORDER BY t.name ASC
Warning
: mysqli_query(): (HY000/1030): Got error 28 from storage engine in
/home/oneshotcleaning/public_html/wp-includes/wp-db.php
on line
2024
WordPress database error: [Got error 28 from storage engine]
SELECT t.*, tt.*, tr.object_id FROM osc5x_terms AS t INNER JOIN osc5x_term_taxonomy AS tt ON t.term_id = tt.term_id INNER JOIN osc5x_term_relationships AS tr ON tr.term_taxonomy_id = tt.term_taxonomy_id WHERE tt.taxonomy IN ('layout_category', 'layout_pack', 'layout_type', 'scope', 'module_width') AND tr.object_id IN (1397) ORDER BY t.name ASC
One Shot Cleaning provide end-to-end solutions for Solar Panel Cleaning for residential as well as commercial clients.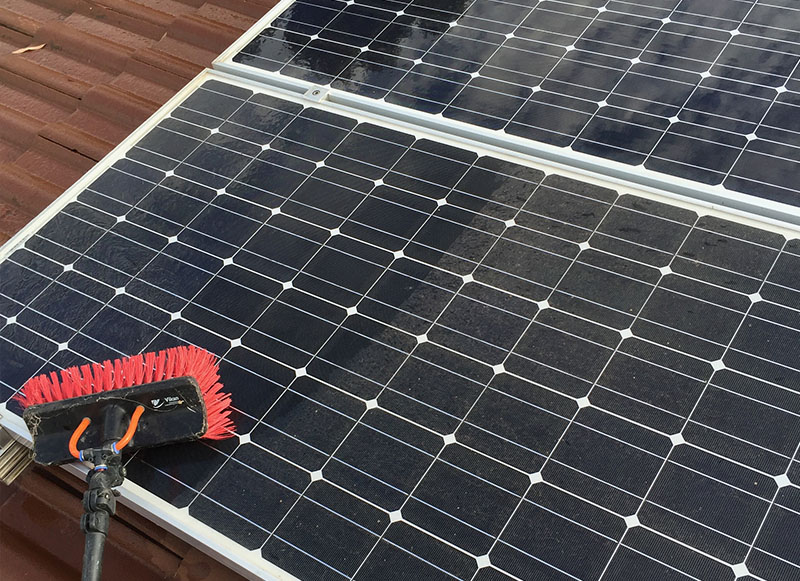 Solar power system not working as efficiently as it used to?
Energy savings from your solar panels have considerably gone down?
Wondering what went wrong?
The answer is regular cleaning of solar panels!
IMPORTANCE OF CLEANING YOUR SOLAR PANELS
Solar panels are at their optimum efficiency during the initial days of installation. However, with constant exposure to weather elements like rain, hail, bird droppings, dirt and grime from the environment, their efficiency gets impacted.
Solar panels are just like the windshield of your car. Leave your car out in the open for a month and you will notice dust deposited on the windshield. If you don't clean this dust, it will affect visibility through the screen. Likewise, dirt deposited on your solar panels blocks out the sunlight, thereby, reducing its efficiency. Lesser energy saving directly translates to higher utility bills for you.
SIMPLE SOLUTION
It is estimated that dirt and grime build up can reduce your solar power system's efficiency by upto 25%. One of the easiest ways of prolonging the life of your solar panels is cleaning them frequently. At One Shot Cleaning, we recommend getting your solar panels professionally cleaned atleast once every six months.
ONE SHOT CLEANING SOLAR PANEL SPECIAL
At One Shot Cleaning, we offer tailor-made solar panel cleaning packages, starting from $79.00. We also have special packages for our commercial clients. Enquire today by calling us at 0418 846 572.
WHY CHOOSE US OVER DIY CLEANING
Cleaning your solar panels using tap water and store-bought chemicals is usually not effective. Residue left from the chemicals can support the accumulation of dust instead of clearing it. Consequently, we advise professional cleaning for better results. Our expert cleaners use de-ionised water to ensure no residue is left after the clean. Furthermore, our team is trained in inspecting solar panels for cracks and bird or rat nests. If detected in time, these small issues can be prevented from causing severe damage to your solar panel.
CALL FOR THE ONE SHOT CLEANING DIFFERENCE